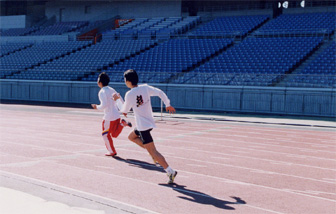 The facility is open to the public on "NISSAN open track DAY" and available for casual and competitive use. The admission is free. Please check the dates available and experience the World class Athletic Stadium.
About "NISSAN open track DAY"
Events available

Short distance (sprint), Middle and Long distance, Hurdles, Long jump and Triple jump.

Lanes 2~4 : middle and long distance, jogging and walking
Lanes 5~7 : short distance (sprint)
Lanes 8~9 : hurdles *Nissan Field KOZUKUE Lane 8

* Lane 1 is out of use for protection
*Dimensions of Spikes shall not exceed 9mm.

Entrance
NISSAN STADIUM
Spectators Entrance (on the 2nd Floor at the pillar No.277)
NISSAN Field KOZUKUE
Rest house (on the 1st floor next to the field)
Charge

Admission free.


No reservation required.
Starting Blocks, hurdles and equipments for long jump are free.
The use of shower and locker costs 100 yen each.
Dates and time
NISSAN STADIUM
Monday to Friday : 17:00~21:00
Saturday, Sunday and National holidays : 9:00~17:00
* November to February until 16:00
Jun
None scheduled
Jul
Aug
NISSAN Field KOZUKUE
9:00~17:00
* November to February until 16:00
Jun
None scheduled
Jul
Aug
*Entrance is open until 1 hour before the closing time.
*Please be notified that those schedules can be canceled or partly closed without notice.
Please note
Keep away from the grass field.
For your safety, don't across the lanes nor run backward.
Please return the equipments after you use.
Wear your spikes on the track area only.